Hits: 544
I vaguely remember the network card not working when I bought the new Brother computer I am currently using. But I decided about a year or two later to test what is wrong using my network tester, which can test a connection over a cat 5 cable. Plugging both ends of the cable into the tester seemed to work. So I know the cable is fine. Plugging one end into the printer and the other end into the tester, it seemed to work also. Then testing the connection on the router using the same cable worked as well, in the sense that the lights on my testing device were blinking in the right order. But when I finally hooked up the printer to the router, I noticed no lights were flickering on the router end. So, maybe that port was the problem? I took a working connection from a switch I didn't care about, and plugged it into the same ethernet port on the router. Suddenly that port came to life. So, I finally recalled that the printer had something wrong with the network card. I had the card on the printer replaced early on, and it was defective again. That, I remember, was the reason why I hooked up my printer by USB. It has wireless capability, but 1) both my desktop PCs have only cat-5; and 2) the printer is not visible on my router's wireless settings anyway.
I stuck with the printer because it was a simple printer that did duplex printing and did it well. But I am going to have to consider shelving this printer and getting another one which with a network port that works. So far, my best bet is to order online, since almost nothing appears to be in stock. I am reading Amazon reviews of some decent printers and there are many harrowing tales about multiple DOA printers (original was DOA and so was its replacement), sketchy tech support  – and this is for a Xerox printer, which one would have thought would be an established brand. This will take some thought, and maybe a bigger budget than planned. And this is for a single-function duplex laser printer. I am not asking for anything crazy here.
For now, I refreshed the drivers, and cleaned out the system using CCleaner. The printer will have to serve me for now.
I was reviewing my computer's specs using a software called "Speccy". You might have heard of it. It is one of those small bits of software that came with my "Pro" copy of CCleaner. It just tells you details about your system and components. I wanted a printout of what I saw on the screen regarding what drive letters are intended for which empty ports on my card reader. And about 30 pages of printing later, … not much on that, but a lot on each and every other detail I wasn't interested in. It would have still kept printing had I not hit the "cancel" button on the printer. I specified double-sided printing, but because I changed the driver to the functioning printer in front of me, the duplex setting was forgotten about by the driver, and the 30 or so pages are all single-sided. What a waste.
Looking at the website for Consumer Reports, I notice that the field is dominated by Brother or HP printers. Xerox is way down below the top 10, receiving scores in the 50s, but no single-function printer I looked at scored above 68. Also, the most expensive are not necessarily the highest-rated. Another workhorse brand, Lexmark, also is not in the top 10.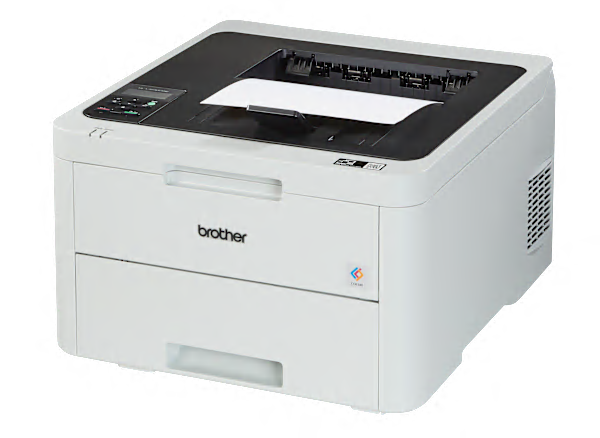 My top two criteria are "Predicted Reliability" and "Ink/Maintenance". The latter criteria, I found out later, are mostly relevant to inkjets, since it refers to the ink used during their self-cleaning/maintenance cycle. All printers shown to me were duplexing color lasers. No printer scored 5/5 for reliability. The top-rated printer, a Brother HL-3230CDW (CR score of 67), has the familiar problem in that it refuses to print in black (or print at all) if a color cartridge runs out. My printer is similar in this regard. I like that it duplexes, something I am willing to pay a little extra for. But apparently it does not print color photos very well, a "feature" shared by these sorts of printers, apparently. The tray takes up to half a ream. Prices vary from $350 to over $550 depending on the seller.
Just below that is a Hewlett-Packard Color LaserJet Pro M255dw, given a rating of 66. Photo quality is still bad; and this one will reject generic cartridges, forcing you to have to shuck out the full price of HP cartridges. Horrible business practice. The printer I have right now is using generic cartridges. In fact, it has never used cartridges from the manufacturer since I had purchased it three years ago. The four generic cartridges cost me a total of $200. Each HP cartridge costs around $80, and four of them would pay for the cost of the HP printer they fit in. CR estimates that with the long life of the cartridges, your cartridge outlay will be in the neighbourhood of $500 over 4 years. I am converting to Canadian dollars and lowballing. Lexmark printers also insist on their proprietary cartridges. Xerox doesn't appear to suffer from this problem; and Brother certainly doesn't. CR's priorities are not the same as mine, it appears.
Generally, the ratings are depressingly low. Higher ratings (starting at 78 and going down) are given to monochrome AIO ("all-in-one") printers, and I am not interested in that. Many of them are also mostly suitable for offices. When it comes to color AIO models, the scores drop to 70 starting with a Brother MFC printer. These generally have higher price tags. AIOs generally print, scan, fax, and photocopy. I haven't had the need to photocopy, and have separate scanners which perform much better than the AIOs I've used. And is faxing still a thing with anyone? Most of us just receive documents sent as emailed attachments these days. In my experience, the fax feature, when I had bothered to hook it up, is only just an avenue for a grifter to send junk faxes to me, at the expense of my ink and my paper.
I guess while CR wouldn't have known that I have a high-performing scanner and have no need of an AIO, it has helped me to clarify my own priorities: 1) Color laser; 2) duplexing (inkjets do color better, but I am not sold on inkjets doing that on both sides of the same sheet without bleeding, and lasers have a lower per-page cost); 3) reliability with a cat-5 (wireless is OK too, but only if cat-5 is working); 4) compatability with refillable, aftermarket toner cartridges.
As a postscript, my outlay for my working, networked printer was $0.00. I turns out that there was nothing wrong with the network card. What tipped me off was that I got the printer to print out the network information, and noticed the printer had an IP address, and knew the IP of the router. Paradoxically, the printer was not visible anywhere on the network. So, rather than untangle that, a factory reset was all that was needed.